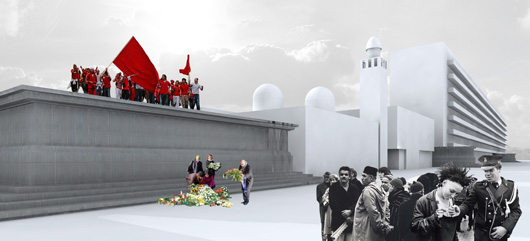 The Open Monument takes over the August Allebéplein creating a platform in the form of a monumental plinth, the plinth is the square and the square is the plinth.
This massive construction wraps itself around the existing buildings and spreads through the accesses to the square connecting with the neighborhood.
The Open Monument avoids the tabula rasa and accepts the existing context with all its peculiarities. It elevates the existing ground creating a platform with latent meaning.
Gottfried Semper, in 1851, referred to the plinth as an element that negotiates between a structure and the ground. The Open Monument exacerbates this notion and brings it to the scale of the city and the scale of social interaction.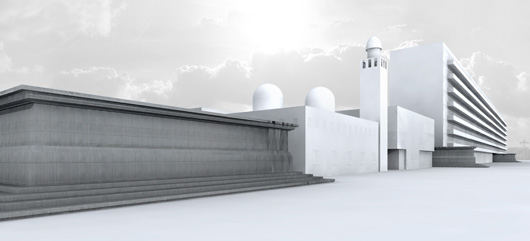 1. is a monument pro modernism:
a tribute to the grand modernist city with its buildings freed from the ground
2. is a monument anti modernism:
denouncing their toxic obsession with functionality above life and meaning
3. is a monument with visibility:
Shakespeare said 'All the world's a stage, And all the men and women merely players'
4. is a monument with voice:
a gigantic forum for dialogue in all forms and languages
5. is a monument with memory:
to remember past and future events, and also, the ones erased from our memory
6. is a monument for citizenship:
an open platform for people to build their own history and cultural identity
7. is an 'open source' monument:
an opportunity for people to build together the history and identity of the monument itself
8. is a national monument:
a tribute to all collective events from Liberation Day to flashmobs
9. is a monument for the local hero:
anybody who feels worthy of celebrating their deeds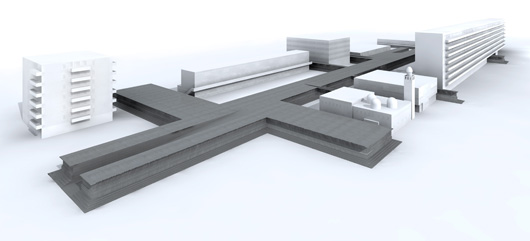 Bird's-eye view from the August Allebeplein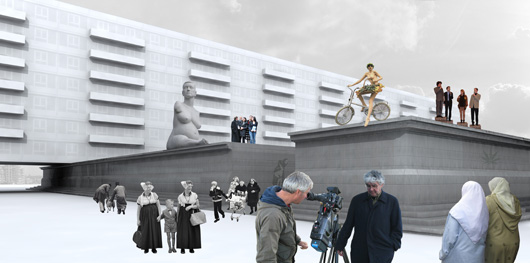 Happening #02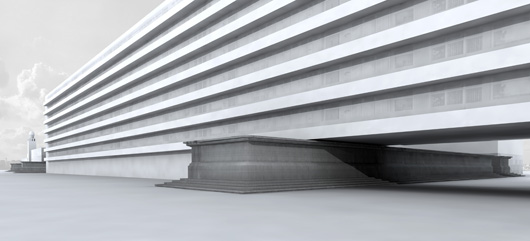 View from Postjesweg
Location: Amsterdam, August Allebéplein
Team: Erno Langenberg, Isabel Cordeiro
Year: 2009