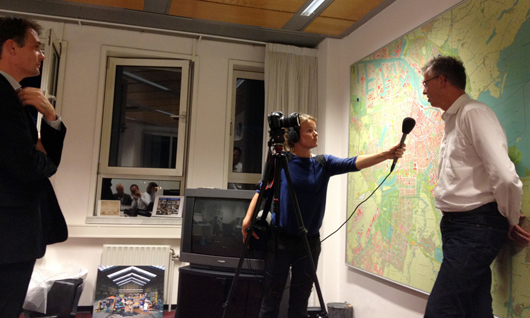 The New Utility bid is offered to Alderman Maarten van Poelgeest (Municipality of Amsterdam) during a closed session at the town hall in Amsterdam. The event is documented on film for the presentation "Showcase for Unsolicited Architecture" at the NAI in Rotterdam on 11 September 2012.
The bid book is part of the study New Utility in the context of the Studio for Unsolicited Architecture.
Facing the changing role and position of the architectural profession, and against the backdrop of economic crisis, the Netherlands Foundation for Visual Arts, Design and Architecture (Fonds BKVB) and the Netherlands Architecture Institute (NAI) joined forces to give more room for self-initiated, design research. The Studio for Unsolicited Architecture provides a platform for experimentation and innovation in the field of complex spatial problems. It is also a great opportunity for designers, artists and critics for publish their views on a actual topic with no predetermined frameworks and constraints. The (preferred) interdisciplinary composition of the teams reflects the domains of the Fonds BKVB and aims to encourage hybrid and cross-disciplinary exchanges and reflections on the built environment.
New Utility is a research which focuses on (more) innovative solutions for vacant property. By transforming vacant office parks into a third generation energy-landscape, vacancy can be contested while working towards a self-sufficient city.
At the meeting in the Stopera were present:
Maarten van Poelgeest (Wethouder gemeente Amsterdam), Paul Oudeman (Kantorenloods gemeente Amsterdam), Hetty Vlug (Projectbureau Zuidoost Lob),
Jan Huijbregts (Zuidpark bv / Connecting Concepts), Ronald Huikeshoven (AM Amsterdam), GertJoost Peek (Fakton), Bob Mantel (dRO gemeente Amsterdam), Jonne Arnoldusen (Assistent Wethouder van Poelgeest), Stefan Wijers (TweeTact – moderator).
Interviews and film: Tess Kanters (Kijkproducties)
team NUT:
René Kuiken (René Kuiken Urbanism)
Jan Heijns (de Gezonde Stad)
Erno Langenberg (ELstudio)
The presentation will take place on Tuesday, September 11 from 20:00 to 22:00 in the auditorium of the NAi (Museumpark 25, Rotterdam). Afterwards there will be drinks in the lobbyof the NAi.