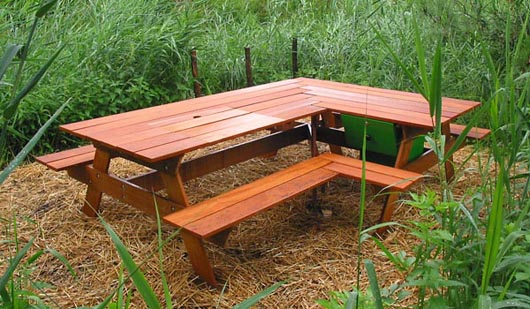 Buitenbureau (out-desk) was designed for the exhibition 'Protopark II: NUT' in the Siegerpark Amsterdam. This 'outdoor office desk' is a prototype for a 'green workspace'. Situated in a quiet park, walking distance from a business area, it can be used by the employees of the surrounding companies as workstation or meeting table. It offers and healthy alternative to daily office routine.
The table is a hybrid, crossing a traditional L-shaped work desk with a picnic table. It has a power connection for a laptop and a drawer for storage of personal items.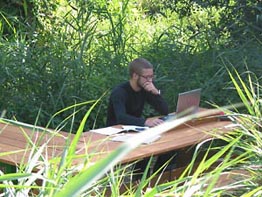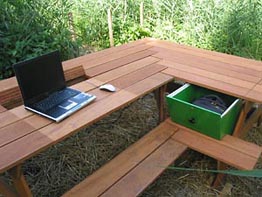 working table 2.1m x 2.9 m, profiled bankirai wood 150 mm x 24 mm,  2 x 220V, drawer with lock.
Team: Erno Langenberg, Joris Hekkenberg
Exhibition: Protopark II: NUT
Location: Amsterdam, Siegerpark
Realisation: 2004