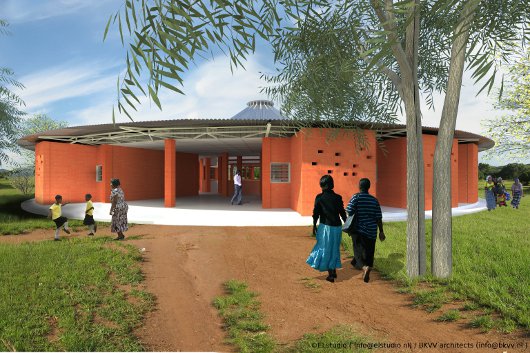 Design for a hospice for the palliation of terminally ill patient's in Chipata, Zambia.
A unique project.
The hospice provides a place where terminal patients can stay and receive care in a comfortable surrounding. It is special project; an intensive and integrated approach in terms of climate, energy usage, construction, physics and architecture has led to a particularly sustainable plan. it is a comfortable stay for 24 up to 48 people with a CO2 footprint smaller than an average European household.
More care with less energy.
The building consists of a number of sleeping rooms and service facilities placed around a central core for the staff and storage of tools and medications. The wide circular corridor that connects all rooms also provides space for family and visitors. The central organization makes the building highly efficient; it provides a clear overview for the nurses, making it possible to run the hospice even with a shortage of staff. In addition, the round shape of the building lowers the need for maintenance and energy consumption. Together this leads to a substantial reduction of operating costs.
Sustainable and local
The building is self-sufficient; generating its own electricity and water supplies. Local conditions are important for a sustainable building. The fact that the hospice is located in a subtropical climate has much influence on the design. To create a pleasant indoor climate without electrical means as a fan or air conditioner a good natural ventilation is important. The shape of the building is adjusted accordingly. To save electricity the use of indirect daylight is maximised and artificial light minimized. For the small amount of electricity still needed, for devices as a refrigerators and lighting, solar panels are used. Further steps taken to make the plan even more sustainable are the use of a bore-hole and septic tanks.
Besides the use of high-tech means, such as solar panels, whenever possible low-tech solutions are chosen because we want to build the hospice with locally available materials and people; the hospice shall be build by and for the local community. Local workers will be trained in the craft of building and running the hospice. Local staff will also continue to keep the hospice running.
Bright future
Sustainable building is a great opportunity for Africa. By tackling the great building task ahead, caused by the economic growth in the country, in a sustainable way, a big step forward can be made. Just like the successful implementation of the mobile phone, without the use of the (obsolete) infrastructure for land lines.
Africa can become leading in the field of sustainability and be ready for the future while the western world suffers from aging buildings and increasingly expensive oil consuming cities. The hospice contributes to the sustainable development of Africa.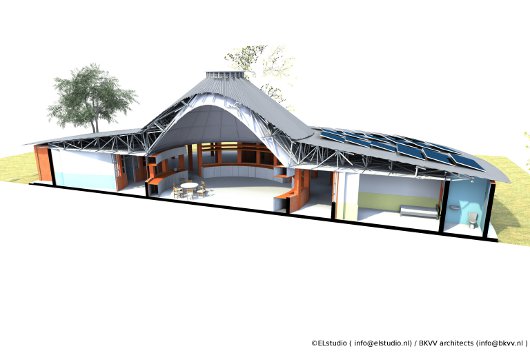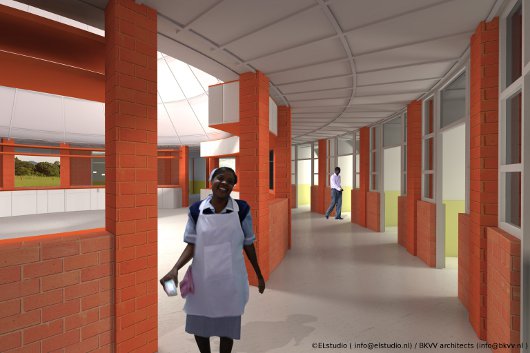 Initiative
Anjo Schuite, Chipata Foundation
Engineering
Breed integrated design
DWA installation and energy consultants

In collaboration with
BKVV architects
Article on Architectenweb