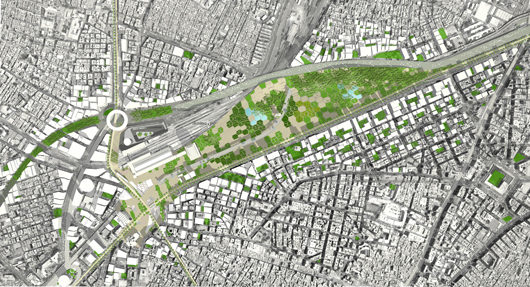 "Ramses Park" is a masterplan for a sustainable redevelopment of the Ramses square area in Cairo. A sustainable city needs green. Located at the base of the Nile delta, Cairo has good soil for building parks.
Important buidings around the current Ramses square keep their position in or around Ramses Park. This includes the railway station, the Everest hotel, the Lymoun tram station, the railway engineering building and the Al Fateh mosque.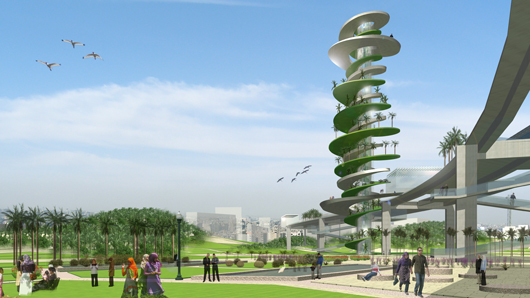 A part of the fly-over remains in place and takes on a new function. Centrally located in the park next to the existing road, we will build a 70 meter high panorama tower. The ensemble of buildings and functions has a harmonious look and feel.
The development of Ramses Park is the stepping stone for the developments of the surrounding area. On the West side of the park the business district expands with the new Ramses Roundabout building as a starting point. On the other side of the park it focusses on combined functions and apartment areas.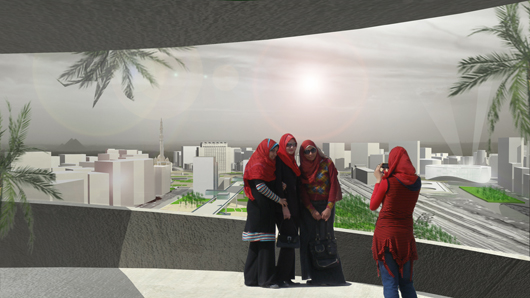 From the panorama tower tourists and locals get a stunning view over the city, with ancient, historical and modern architecture surrounding the park. In the background they see the pyramids. An everlasting impression.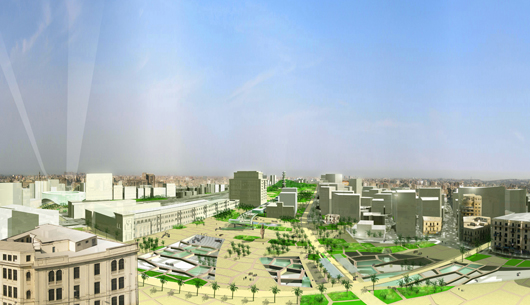 Imagine the new green Ramses Park with it's modern railway station, the electrical metrobus lines, the elevated Bridge road and the panoramatower from where the Pyramids are visible.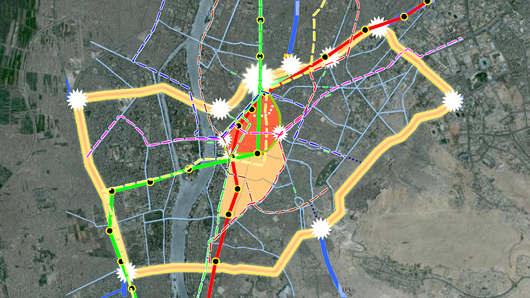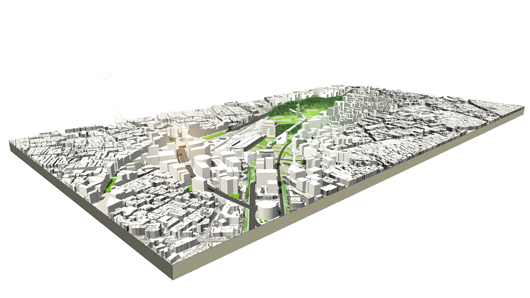 Credits:
A project BY MAISSA ARCHITECTURES Sarl, Libreville, Gabon, and BLOK KATS VAN VEEN ARCHITECTS, Amsterdam, the Netherlands
In co-operation with:
ARCHITECTS
Jean Pierre, lead designer
Robert van Kats, lead designer and coordination
Dieter Blok
Sander van Veen
Sara van Holstein
Erno Langenberg
LANDSCAPE ARCHITECTS
Remco Rolvink
ASSISENT ARCHITECTS
Sonja Spruit
ADVISORS
Bart Winkel, Senior traffic engineer, Witteveen+Bos Consulting Engineers
Jack Backx, Junior traffic engineer, Witteveen+Bos Consulting Engineers
JOURNALIST
Ayatollah Musa
ASSISTENTS
Jaques Abelman
Rui Seguchi
Tatjana Trzin
Abram de Boer
DVD PRODUCTION
Alexander Valeton, director
Michael Krass, voiceover
Lucas van Woerkum, editor
Arnoud Traa, sound design
Ujang Sastramidjaja, sound design