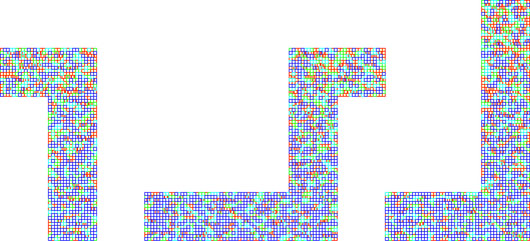 ELstudio designs the parametric computer generated  facade for a building complex in Herning, one of the fastest growing cities in Denmark.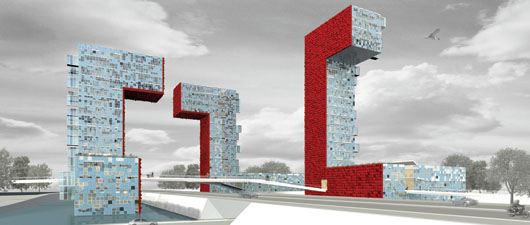 The first action is the highway 18 which transforms Herning to a town with high connectivity to other major cities in Jylland, the second is Herning municipality merging with surrounding municipalities to form a new super Herning.
The Europan location present a simple paradox for the town; on one hand this is the new artery, which will feed and nourish Herning's second growth, on the other hand it is this artery, which cuts off Herning from its future expansion areas. The same could count for the future inhabitants, Who is to say that they will work in Herning or that the people who work there, will live there? However much we wish to hide this cut in the land, or even remove it, we must not succumb to this simple desire for this road is not a symbol of division, it is in fact a hidden symbol of unification. Instead of turning our backs to this infrastructural node, we wish to embrace it. While dealing with this Gordian knot we are dealing with the growing pains of Herning as a whole. Instead of trying to cut this Gordian knot of highway, potential expansion area and lifeline entangled into one, we bypass it. We do this by creating a symbolic connection of monolithic shapes that from the highway look intertwined, but actually stand free from one another. We create a mini-city, an instant skyline. This mini-city is a real urban place on a small scale; mini urbanism. The complex contains a variety of program, private as well as public. A vertical division is introduced, the horizontal part is public program, while the towers are residential, apartments in different sizes. The highway gives the feeling of freedom & movement, the disadvantage of pollution and noise are solved by the design of the façade.


Detail of the computer generated roadside façade.
Façades
All façades have different characteristics according to their orientation. The south façade contains solar panels to pro­vide the apartments with energy. The roadside façade consist of a pyramid like structure containing sound-absorbing material, windows and ventilation filters to cut the noise and clean the air coming in the apartments. The facades are a result of a study into parametric facade configuration. All facades are generated by means of a Python script, which generates a non repetitive pattern out of four different elements (glass, translucent, ventilation, solar panels) distributing them according to the performance needs of the building (natural light fall, energy consumption, etc.). The façade gets a colour gradient due to a slowly rising percentage of windows or solar panels.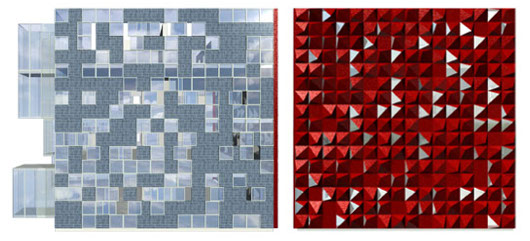 For each orientation a different organisation of façade elements.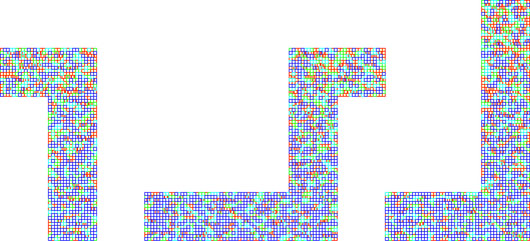 Three façades with the same orientation, showing different arrangements of the façade panels
Projectteam
Erno Langenberg , Ofri Earon (Dk), Thomas Krarup (Dk)